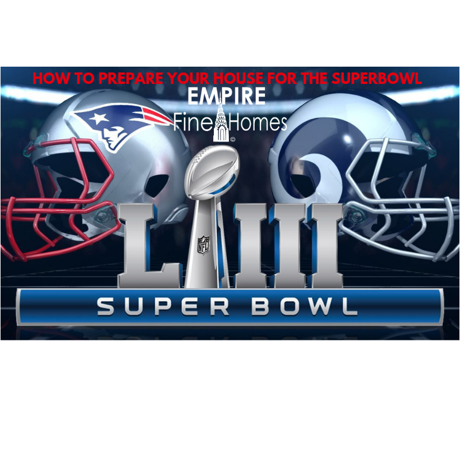 The Patriots have done it again, for the second year in a row, our beloved New England football team is headed to the Super Bowl. With just a few days left until the biggest football game of the season, it's time to kick it into high gear to get your house prepared for hosting your annual Super Bowl party. Whether you're rooting for the Patriots or the Eagles, follow the tips below to have a stress-free weekend!
Get Your Rooms Ready
Before your guests arrive, go through each of the rooms in your home and remove any clutter. This will give you a chance to clean and organize all of your things, especally the items that are not in the appropriate places.
ENTRY WAY
Take all of your personal belongings (i.e. shoes, jackets, bags) and put them away so you can keep any and all space open for your guests' personal belongings. This will keep everything organized and will reduce the amount of outerwear laying around your house during the big game.
If you have a designated entry way or closet, utilize baskets for shoes, keys, and wallets for easy access to all of these items.
LIVING ROOM
Once you make your way to your living room, make sure the television is in a spot that everyone can see, is working, and is set to the correct channel. This will eliviate any last minute fumbling through the channels when the game starts. You'll also want to prepare for extra seating and table space for guests to sit, eat, and watch the game.
KITCHEN
Although the living room is where a majority of your guests time will be spent during the game, the kitchen is where all of the food will be so it's important to spend time cleaning, decluttering, and preparing it for your guests. Kitchens get messy fast and starting off with a clean space will make the mess during the game more bearable. Start by wiping down your counters, cabinets, and appliances. Small baskets can be utilized for items such as keys, phones, and wallets and anything that is on the counter that doesn't need to be there during the game should be put away in a cabinet somewhere.
Cleaning your kitchen prioer to game day will also give you the opportunity to clean and organize your kitchen cabinets. Place all of the items you don't need or no longer use into a pile and schedule an appointment for these items to be picked up and properly disposed of. This will save you time, money, frustration, and space!
Don't Forget the Kids
If you are expecting children over your home for the big game, don't forget to stock up on food, beverages, and activities to keep them occupied and well-fed while the adults watch the game. If you don't have children of your own, you probably don't have a play area set up in your home but don't fret! Seting up an area of a room to transform it into a play area is easy. Find a space that is easy to clean if it gets messy and round up toys, a small table and chairs, and some treats for them to keep occupied.